Latest Releases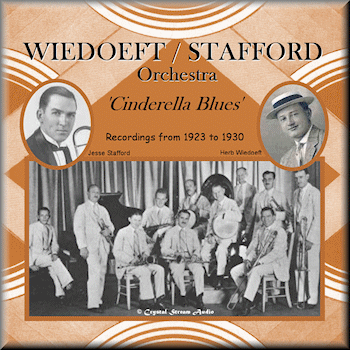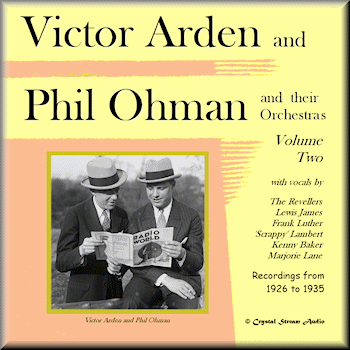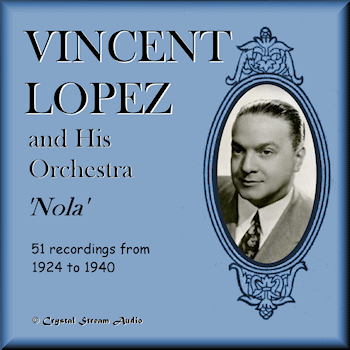 Wiedoeft / Stafford Orchestra
'Cinderella Blues'
Recordings from 1923 to 1930

Victor Arden - Phil Ohman and Their Orchestras
Volume Two
Recordings from 1926 to 1935

Vincent Lopez and His Orchestra
'Nola'
DOUBLE CD
51 recordings from 1924 to 1940

Joe Reichman and His Orchestra
'Me and the Moon'
Recordings from 1929 to 1942

Jan Garber and His Orchestra
'Fascinatin' Vamp'
Recordings from 1924 to 1929

Billy Cotton and His Band
Volume Five
'Rhythm Mad'
DOUBLE CD
53 recordings from 1933 to 1936


COVID-19 (CORONAVIRUS)
UPDATE ON POSTAGE RESTRICTIONS
7 March 2021:
Further to my previous advice on this web page about the problems with sending mail overseas during this difficult time Australia Post are still advising that there are many restrictions, but things continue to improve a little. Although restrictions have become less onerous and parcels are getting to their destinations in the USA and Europe (at least), postage times still remain uncertain, and can take up to four weeks to the USA and up to six weeks to the UK and Europe. Thankfully, I have been advised by some recipients that services seem better than anticipated. But, as Australia Post will probably continue its increased postage costs for some time yet I have no choice but to extend my moratorium on accepting orders from overseas purchasers INDEFINITELY, with the following exceptions:
Purchasers in the USA and Europe (including the UK) can order CDs, but because of the uncertainty of having to pay higher postage costs they must order AT LEAST THREE CDs. In all honesty anything less than three CDs means that the total price of the CDs could be absorbed by the packaging and postage.
Setting this minimum order limit will avoid any increase to the price of the CDs to make up for the extra postage costs, which I will continue to absorb at this time.
Once again, we'll see what happens in the next few months; at this stage, it doesn't seem to be getting any worse!

ORDERS BY PURCHASERS IN AUSTRALIA CAN STILL BE RECEIVED AS USUAL.

I have greatly appreciated all your support and will keep you informed of any changes in the situation on this Web page.
Crystal Stream Audio CDs are priced as follows:

*** PRICES INCLUDE POSTAGE ***

Single CDs: A$21.00 to adresses within Australia
A$25.00 to other countries
Double CDs: A$25.50 to addresses within Australia
A$29.50 to other countries

Orders can be made online using the 'ADD to CART' button shown for each CD.
PLEASE ENSURE YOU SELECT THE CORRECT ADDRESS LOCATION.
When you have completed adding the CDs to the CART, continue to the check-out by using the 'VIEW CART' button to pay via PayPal.
You can pay using your PayPal account or a valid credit card if you are not registered with PayPal.

AUSTRALIA POST advise that INTERNATIONAL purchasers should allow 10 or more working days for delivery, depending on location (it is possible that parcels to Europe can take more than 3 weeks!)
SEE ABOVE FOR FURTHER POSTAGE DELAYS DURING THE CORONAVIRUS (COVID-19) RESTRICTIONS.

Some reviews of Crystal Stream Audio CDs by MEMORY LANE, England.

Crystal Stream Audio provides an opportunity for collectors (and those who still remember) to hear the music of the past. Many of the tracks on these CDs have not been available for years. To ensure maximum listening pleasure the recordings have been lovingly restored from high quality original discs held in private collections. Each CD contains more than 70 minutes of playing time!

As the CDs are completed they are added to the catalogue and we are always pleased to hear from collectors who may have particular favourites they would like to hear again.

You can hear a couple of compressed, medium quality MP3 samples of tracks from the CDs listed under 'Latest Releases' by clicking on the highlighted selections shown on the pages for the CDs. Also, by 'clicking' on 'Before & After' you will hear how old recordings can be 'restored' to improve the enjoyment of the listener.

It should be noted that Crystal Stream Audio CDs are manufactured and sold in Australia under applicable laws, including the Copyright Act 1968 (and subsequent amendments). They are intended for private use only and purchasers should be aware that any other use may breach the copyright laws (and others) in their countries. Crystal Stream Audio does not provide a facility for the digital transmission of its sound files by 'downloading' and the web site is intended to be used only for purchasers to express their desire to obtain the CDs and to facilitate the payment process.